Skip to Content
An Elite Fitness Center in East Brunswick, NJ
Have you put on a few pounds and can't get them off? Or maybe you've been feeling sluggish lately. You are not alone. It's very natural for those who are middle aged, had body setbacks, or have little to no experience with exercise, struggle with fitness. At ELITE Fitness Alliance in East Brunswick, NJ we offer a fitness center specifically designed for those who are struggling to meet their goals. If working out at home isn't working, and you struggle doing it alone at the average gym, we're the place for you. We help you train both your mind and body in ways that encourage continual improvements in your mobility, balance, energy levels, and overall health. This focus on you is what makes our training truly ELITE!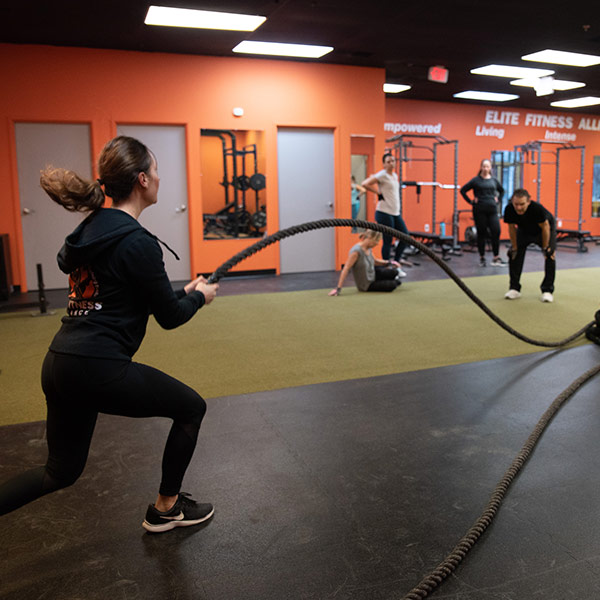 ELITE Fitness Alliance Membership Benefits
Most members find that they have enhanced fitness, strength, endurance, mobility, and state of mind after working out with us. All of this comes from the sweat and hard work you put into your own fitness. However, membership comes with some additional perks. When you visit the Art of Salad at the Midstate Mall, you will get 10% off your order, and we also partner with Be My Guest Personal Chef for meal prep and delivery services which makes eating healthy easy for you! Many insurance programs, like Horizon Blue Cross Blue Shield of New Jersey, offer fitness incentive programs. Participating insurance providers will give you $20 in cash rewards each month as long as you check in 12 times or more that month. What could be better than making money while you achieve your fitness goals?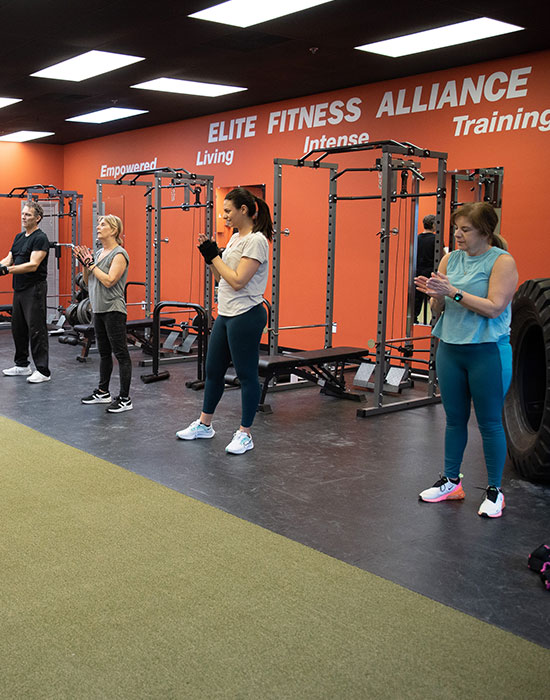 Download Our Free Report
Take a moment to learn more about our studio. We offer a free report that will give you more information about each trainer and walk you through some of the best reasons to let us help you form a fun-filled fitness routine.
Client Reviews
I joined the ELITE Fitness Performance Power Program for eight weeks. At the end of the first eight weeks, I am happy to announce, I feel better mentally and physically. I reduced my body fat and lost inches around my hips and waist. I am really happy that I found very supportive trainers that care and push you to do your best. I had a bad experience with trainers in the past. Now I know what it is to find a real fitness family.
I wanted to share my recent obstacle race experience with you all. I did this terrain race last Saturday and was able to complete the race. This is my first obstacle race. I had to climb walls, carry and flip tires, walk through hip-level mud, carry a 40-pound bag uphill, do monkey bars, and much more. I was able to push myself and my comfort zone to achieve this. I thank all the ELITE trainers who trained me to achieve this.
Since starting the [nutrition coaching] program, I have had good results. For one, I'm losing weight, losing inches. I'm also very aware of my intake. So, I prep my meals after shopping, I eat with intention, and I'm having a good time. I'm understanding about food. The best thing about having a nutrition coach is I can call her whenever I need her!
I've only been with the program for about three weeks, and in that short period of time, I have that burst of energy that I was looking for. I'm losing weight. I'm starting to eat right, and you know, with the exercise program, I'm bettering my health. Those are the immediate benefits.
Today was my last day at Elite Fitness but not by choice (I'm moving). Let me preface this by saying I never enjoyed working out before I came across Brittany (the owner who also teaches Saturday bootcamp class) and her wonderful group of women trainers.
Overview of trainers: Nelli is a member favorite - she really takes the time to put together such creative workouts and pushes you just the right amount! Bailey is a sweet ball of fun and runs a great core class and always gives multiple modifications just in case. Fran is absolutely amazing - she gives the right supervision for strength training and is so supportive! They're all wonderful and seem to have their eyes on everyone to correct proper technique.
I'll miss this place. Members are so sweet and uplifting too. No matter your skill or experience level don't hesitate to join!
ELITE Fitness Alliance provides a mix of group training and personal training. I've participated in both, group and personal training. The group training was fun and I got a great workout. I always feared "the aggressive personal trainer." ELITE was fantastic; all trainers provided form corrections without being overbearing or aggressive.
After trying group fitness I dove into the personal training. I worked with Brittany from ELITE who helped me lose 40 pounds with a combination of exercise and healthy eating. She taught me how to properly work out and use equipment which has helped me keep the weight off over a year after completing the personal training program.
Strongly recommend ELITE Fitness Alliance to anyone who wants to improve their life and well-being.
Elite Fitness Alliance LLC
Phone
732-723-8340
Group Session Times
Monday – Thursday:
5:30 AM, 6:30 AM, 9:30 AM, 5:30 PM and 6:30 PM
Friday
6:00 AM and 9:30 AM
Saturday:
8:00 AM and 9:00 AM
Sunday:
9:00 AM
Personal Training and Nutritional Coaching by Appointment Only
3 Lexington Ave, East Brunswick, NJ 08816, USA